Cameron Pfiffner, Jim Baker, Brian Sandstrom and Tim Daisy performing during Jazz Occurrence No.11 at the Aurora Public Art Commission on May 5th 2017.
3X4 foot acrylic on panel $1000
It was great to collaborate with multi-disciplined artist Pfiffner, Extraordinary Popular Delusion staples Baker and Sandstrom, and the mondo-talented percussionist Daisy. The recording of the concert is exceptional.
Fonema Consort presented Songs from Xilitla at the Instituto Cervantes on April 27th 2017.
3X4 foot acrylic on panel $1000
Pablo Santiago Chin, Dalia Chin and Nina Dante are some of the most exciting contemporary classical performers around.
Lola Marsh band performs at Schuba's Tavern Chicago for the Israeli Music Series on June 29th 2017.
It was a thrill to meet Lola Marsh and Fiona Grey who played for this 5th year of collaboration with the Midwest Israeli Consulate.
Jeremiah Hunt (depicted) plays for the Museum of Contemporary Art Chicago's Tuesdays on the Terrace series with the Xavier Breaker Coalition.
The MCA has been kind enough to publish Jazz Occurrence blogs and encourage this artists' #livepainting adventures.
Twin Talk brought their sound to the MCA on Aug 15th for the Tuesdays on the Terrace series.
I've had the pleasure of working with Katie Ernst, Dustin Laurenzi and Andrew Green on a few memorable occasions.
11X14 inches pastel/charcoal/carpenter's chalk on wood panel 2017©lewisachenbach/ARS $400
Willie and Bethany Pickens performed at one of my new favorite haunts; the Reva and David Logan Center for the Arts on Chicago's Hyde Park southside for the 11th annual Hyde Park Jazz Festival on September 3rd 2017.
This 11X14 inch pastel on wood panel is available as a signed reproduction ($50 or original $400)
The Xavier Breaker Coalition plays the Museum of Contemporary Art Chicago's Tuesdays on the Terrace series.
Original available for $300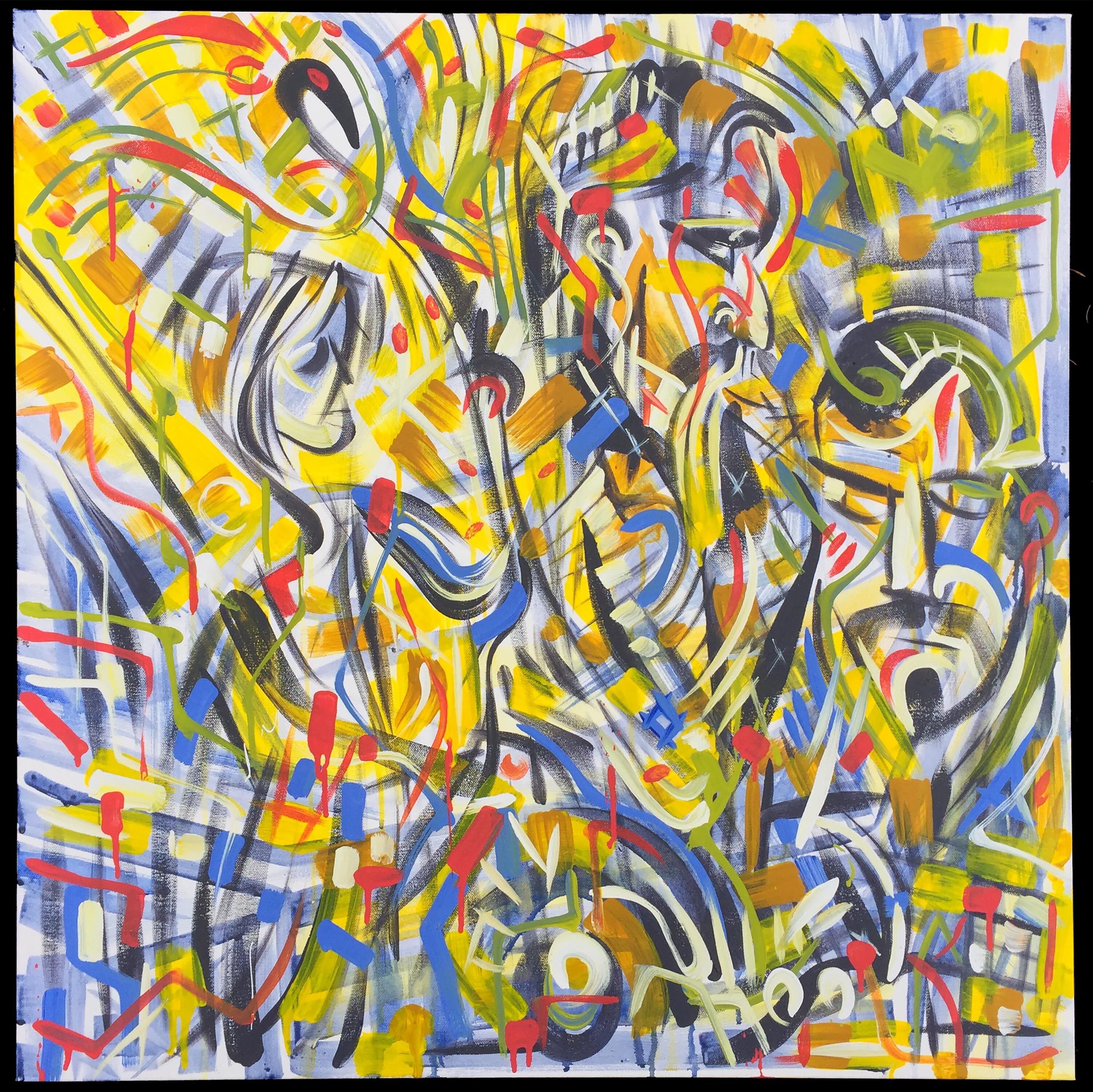 Jacob Duncan performed with Chris Baker and Ashley Summers at Café Mustache on March 28th 2017.
I've painted a few times in this cool venue and plan to return. This 30X30 inch acrylic on canvas goes for $500
Jim Baker (depicted) has to be my favorite piano players.
We have collaborated numerous times, from Jazz Occurrence No.1 to No.11 and concerts in between. This 30X30 acrylic on canvas from JazzO11 at the APAC during the 4th annual Jazz Occurrence Art Exhibition really captures what I'm trying to do; capture the frequency in room as a sonic portrait.
I would reluctantly sell it for $500
George Freeman at 90 just blows my mind. Here he is at the 39th Chicago Jazz Festival as 8X10 inch pastel/charcoal/chalk portrait.
Reproductions can be arranged. Original $300
Seven Houses at the Red Room February 23rd 2017 happened because of my long standing collaboration with musician Chris Weller. Thank you, Chris. Great venue also.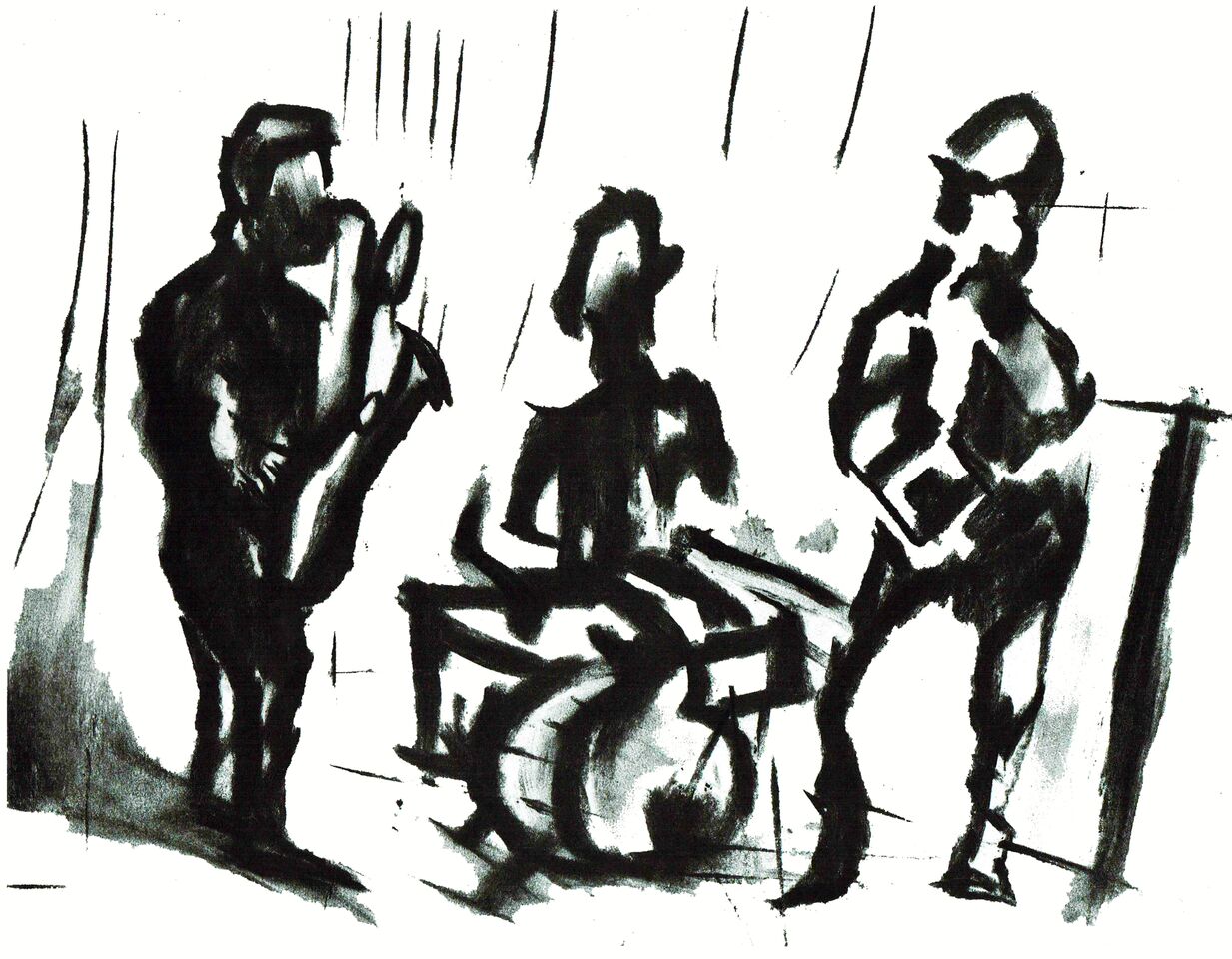 This last drawing from April 17th 2013 at the Hideout of Ken Vandermark, Chris Corsano and Mars Williams began to give me the courage to keep on creating. 11X14 inches charcoal on paper.
3 great musicians that don't often come together. It was a great night in Chicago. Original $300 and reproductions available.